Puppies to Love
ABOUT US
CloverLawn Kennels is a family oriented, hobby facility raising beautiful Old English Sheepdog puppies that are of high quality, proven lineages. Our breeding OES come from AKC lineages where health, temperament, and conformation is important.  This helps ensure that we are breeding only the best and healthiest puppies possible.  Our puppies are well socialized and healthy.  Because of our conscientious breeding program, we feel confident that you are getting the best pet we can possibly offer. Our puppies come to you ready to love and to be loved.
Birth Announcement
We are excited to announce, Lana has delivered her puppies!  More details shared on "Our Dogs" page .  Please complete an adoption questionnaire if you are interested in having a beautiful Old English Sheepdog Puppy join your family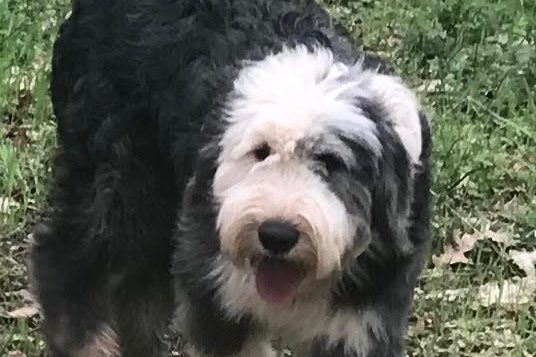 Old English Sheepdogs
The Old English Sheepdog emerged out of the drovers used to manage and protect sheep and cattle in the English countryside and drive them to market.  The Old English evolved as a large, hardy dog that could withstand the harsh climate of the English countryside and would not be intimidated by the well-horned sheep it was guarding or the wolves it was guarding against. Its thick, insulated double coat not only protected it during warm summers and cold, wet winters, but also gave it a woolly, sheeplike appearance that helped it earn its charges' trust.
Size and Average Life Span
Females average 22 in. tall and between 60-85 lbs. Males average 23 in. and weigh approximately 80-100. Old English Sheepdogs average 10-12 years.
Temperament
Old English Sheepdogs are loyal family dogs who adore their people and wand to be with them as much as possible. They make excellent watch dogs as they are quick to sound the alarm that someone is approaching. Sheepdogs are great with kids, patient and kind, and always open for romping and playing in the yard. They make an excellent companion for experienced dog owners with active lifestyles.
  Grooming
Grooming an OES can be quite time consuming if choosing to keep the coat long and "show ready". A good estimate of 3-4 hours a week is suggested. However, OES's may be body clipped for more manageable care.